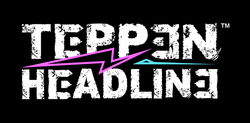 The TEPPEN HEADLINE is the name of the official live broadcasts hosted by the Japanese TEPPEN team. It was first announced on February 12, 2020[1] and have since happened periodically to announce a new expansion.
The broadcasts are always hosted by members of the development team alongside select few guests. Since the third broadcast, the staff has had to comply to social distancing rules due to the COVID-19 pandemic.
The early broadcasts had live translations to English, however more recently the English version is instead hosted live at the PlayTEPPEN Twitch channel hours after the Japanese version ends.
Dates
[
]
TEPPEN HEADLINE #1 - February 16, 2020
TEPPEN HEADLINE #2 - February 27, 2020
TEPPEN HEADLINE #3 - June 25, 2020
TEPPEN HEADLINE #4 - September 18, 2020
TEPPEN HEADLINE #5 - November 11, 2020
TEPPEN HEADLINE #6 - February 19, 2021
TEPPEN HEADLINE #7 - April 16, 2021
TEPPEN HEADLINE #8 - June 25, 2021
TEPPEN HEADLINE #9 - August 27, 2021
Gallery
[
]
Images
Videos
Trivia
[
]
Sources
[
]
Events