Glorious memories, trampled irreparably.
This article contains information about content that is currently unavailable.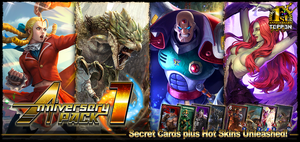 The 1st ANNIVERSARY Pack 1 is a card pack for TEPPEN which was available between August 3 - August 31, 2020.[1]
It was first announced via the first TEPPEN HEADLINE EXPRESS on August 2 and was released via the Version 2.5 Update. The pack was part of the TEPPEN 1st Anniversary campaign and it costed 240 Jewels per pack with a Legendary Charge of 30. It had the ability to pull Core Card Pack, DAY OF NIGHTMARES, The Devils Awaken, Haunted by Memories and Adventures of a Tiny Hero cards alongside all nine Skins that were available at the time. Additionally, this card pack had a higher chance of opening a skin.[1]
This pack introduced the following cards: Veteran Agent Leon (HBM 011, Secret), Curious Cat Felyne (ATH 041, Secret), Innocent Desire Lilith (TDA 067, Secret) and Tainted King Vaal Hazak (TDA 092, Secret)
Possible Skins
Azure Rathalos
Pink Dress
Blonde Hair
Ready for Battle
Evil Ryu
Blue Headband
Double Cyclone
Black Hair
Arch-Tempered
Possible Cards
Secret Cards
Legendary
Epic
Rare
Common
Sources
Card Packs
Community content is available under
CC-BY-SA
unless otherwise noted.